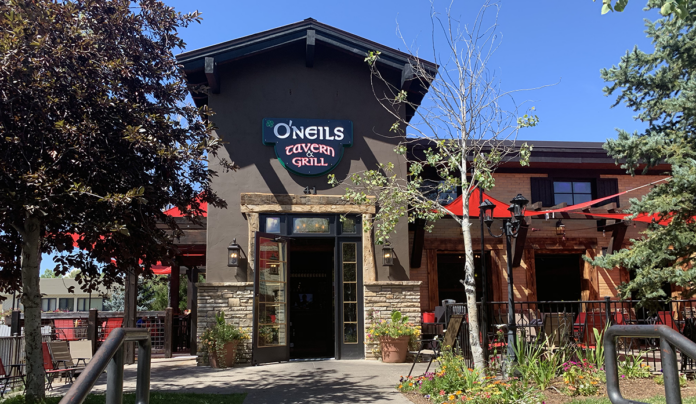 Steamboat Pilot & Today, March 27, 2019 — A large deck, larger kitchen and a prime downtown location has O'Neil's Tavern & Grill owner Dave Eliason excited about a planned move this summer from the basement of the Old Pioneer Building on Lincoln Avenue to a new spot on Eighth Street.
"The location and the patio are both the reasons that I have decided to take the space," said Eliason, who confirmed that he is moving his business into 41 Eighth St., which had been the location of Cuginos until it closed March 22. "It will be a perfect fit for O'Neil's after a major remodel."
Eliason owns O'Neil's Tavern & Grill, Backdoor Grill and How Ya Doin Pizza N Eatz in Steamboat Springs.
"We are shooting to get in there and get it open by July," Eliason said. "The goal is to expand the business, and the goal is to provide more of a menu and options. We want to stick with our traditional Irish fare but be able to offer more in the way of salads and steaks and sandwiches."
O'Neil's Tavern & Grill has been serving up everything from fried pickles and Irish mac and cheese to shepherd's pie and fish and chips for more than three years in its current location in the basement of the Old Pioneer Building, 737 Lincoln Ave.
Eliason said he has already signed the lease for the former Cuginos building and is just waiting for some lose ends to be tied up before work can begin renovating the space for O'Neil's. He said the staff at O'Neil's will remain the same, and he expects his staff to grow in the future to meet the needs of the new, larger location.
"We want to make it a true Irish pub and try to bring the same feel that O'Neil's has now into that building using stone and wood and colors and decorations," Eliason said.
He said the move will triple the space of the current location, which has about 50 seats. The new location, with the patio, will seat up to 150 people. The kitchen will also be larger, which supports an expanded menu.
He said the restaurant will continue to offer late-night dinning.
"We want to keep the late-night thing going. We have food until midnight now, and that is something that the town really needs," Eliason said. "We sell a lot of food between 10 p.m. and midnight."
Eliason said he also has plans for the space where O'Neil's is currently located but is not yet ready to announce the specifics of his new concept.
Until the move, it will be business as usual for O'Neil's, which is open from 4 p.m. until midnight seven days a week offering daily happy hours from 4 to 6 p.m. and again from 10 p.m. until close.
"We feel like our popularity has grown, and we need to give it a chance to grow, "Eliason said.